the other night i asked Chiko to accompany me on my "last free day" as a social person (as i was expecting a lot of work that week). we binged on NY fries... ok,
I
binged on NY fries (Extra Large Grande size with extra garlic parmesan dip, if you please) with large lemonade at Market! Market! then we skipped over to Serendra for some cupcakes at Sonja's and...i was hooked! not with their cupcakes, although they
were
yummy. rather with the
idea
of cupcakes. it's so...uh...gloriumptious. hahaha.
:: for those who need to know...cupcakes are tiny cakes, therefore a dessert...while muffins aren't, therefore they are eaten at breakfast.
anyhoo...i'm on a cupcake rampage, so i went blog-hopping and look where my mouse took me! enjoy!
My kind of flowers
Baking is in the genes
Cupcakes for a birthday girl and an anxious mom
Cupcakes by Sonja
on foreign sites:
52cupcakes
Cupcake blog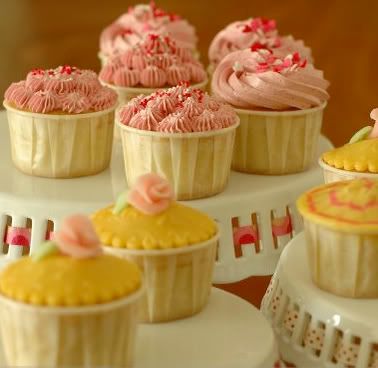 Cupcake Workshop!
:: in pic... our cupcakes and nanos!