guess most of you have read Gayette's blog about me. thank you for the texts and messages online... i received this email from CEAE last week, and i can now officially share the good news:

July 27, 2007 Greetings from the Center for Environmental Awareness and Education! Congratulations! We wish to inform you that your film has been selected as an official entry to the 2007 Moonrise Film Festival. ....

--------

yup! my college thesis, a Baguio documentary, is a finalist in the moonrise film festival!
All the hard work, sweat, tears, (transpo expenses) and prayers ...all boils down to this. God's timing is never early, never late.

here's the announcement my officemate EJ made for my company entitled "Diane Sipin is a goddess!":

---------------------------
In ancient Roman mythology, Diana is the goddess of the moon.

She protected the wild places and animals, to her was known the deep
places in Nature where one could rest and regain strength.

In (very) recent Campaigns and Grey history, Diane is the goddess of the
moon...that is, THE MOONRISE FESTIVAL! :-)

Yup, our very own Diane Sipin has conquered the 3rd Annual Moonrise Film
Fest with Aramiden, A Glimpse of the City of Pines!

The festival is a venue created to encourage filmmakers to turn their
cameras toward conservation and cultural issues. Since 2005, it has
attracted both amateur and professional film makers to create
documentaries dealing with critical national issues, the finalists of
which are honored in public screenings in selected theaters.

This year, out of almost 60 entries, Diane's college thesis made it as a
finalist!

(side note: imagine that! and she did it mostly on her own, whereas others
had full crews working with them)

The top documentaries will be shown in Robinson's Galleria starting August
13, and will culminate in an awards ceremony on the 18th. Diane's Aramiden
will have 2 screenings:

2-4 pm on August 13, Monday
6-8 pm on August 16, Thursday

To give you an idea, here's a synopsis:

What we know as the "City of Pines" has become a highly urbanized city
with the trappings of any modern-day metropolis, corrupting what once was
a dearly unique culture and environment. This film is about the locals'
continuing effort to save what is left of the glory that is Baguio.

For more info., check out this link...

http://www.ceae.org/film_moonrise2007.htm

Let's all congratulate Diane with a warm hug -- one that she usually
gives out so unselfishly herself! :-)

BRAVO, DIANE!

----------------------------------

it's finally happened...after almost 3 years, my film will be on big screen. wow. i've always wanted my film public... it IS an advocacy piece after all... but somehow it never came to pass. i don't know what's so special about 2007, but here it is. :) and talk about timing:

• 2005... one week before my thesis panel presentation, my ibook hard drive crashes. i had no backup, and i lost pretty much everything -- my film edit, captured video and digital stills. i had to start from SCRATCH, a whole month's work! somehow though, re-editing it again gave me a new perspective and the story flow came out a bit differently the second time. with help from my thesis adviser, i was able to get another schedule and graduate on time (nothing short of a miracle that time..)

• that same year, there was a call for short-documentary entries for a Channel 5 competition called "Dokyu". i did all the requirements for that, and submitted my tapes, even cut down my 12-minute film to 8-minutes (boy was THAT hard),submitted the paperwork needed, etc etc. first prize for that was P10,000, plus a showing on channel 5. after 3 months waiting for results, i finally called the station...it turns out, due to some problems (financial and whatever else) they cancelled the contest and the show went on hiatus. i was SO bummed! and mad. i felt it was a waste. buti nalang pala hindi natuloy...
that would've disqualified me for Moonrise because you can't have an entry that was previously submitted elsewhere. i believe God wanted what was best... He didn't want me to settle for TV only, hehe

• 2005... the year i finished my film was also the same year that Moonrise Filmfest started. Everyone urged me to join. syempre excited din ako, but call for entries wasn't until July...i got accepted in Campaigns and Grey the month before that and somehow i plain forgot. a week AFTER the deadline my friend called and asked if i entered. AUGH! i missed the deadline! that year, they chose 10 (or 13?) finalists from only 16 that joined. nainis ako. i figured i would've had a better chance of winning back then.

• 2006... sabi ko, eto na. i'll join na. february palang, excited na ako. months passed and... i FORGOT AGAIN! waaaaah. 'lam nyo naman ako, forgetful diba, but 2 years in a row? i wanted to kick myself!
anubah! i remember pa nga when i finally thought about it and called up CEAE, the deadline had JUST passed. AUGH! i remember trying to convince the organizer for me to submit anyways,
but they were strict. owel.

• and... like salt in an open wound, Campaigns and Grey was hired to do the ad campaign for the festival.. *sniff* not only that, i was the one assigned to do the 2 minute trailer for the finalists. waaaah.
so of course, i had to watch the 16 final films. wow
, ang gaganda. i remember secretly being relieved that i didn't join anymore, because it would've been a waste of entry fee. grabe! some of the films were full production! i was so intimidated, and i even felt ashamed to even think i can try going up against these great film-makers.
*sigh*

• 2007 - i pretty much forgot about Moonrise. i even made my thesis into dvd-copies as Christmas gifts to my bosses. Pinamigay ko na... at least who knows, mejo ma-publicize sya konti...giving it away to some friends. kawawa nga ako, ang dami ko pang copies at home. (haha). But i guess, just like Joseph, waiting in his prison for 2 whole years just because the cupbearer PLAIN FORGOT about him and his request... God had bigger plans.

sometime last month, while OT-ing at work, i suddenly thought about Moonrise. so i looked it up online and...waaaaah! the deadline was one week away! should i join? i figured, nothing to lose (except the 2000-peso entry fee haha
).

now, im so excited! i dont care if i win...at least my dream of Aramiden showing on bigscreen is coming true! and who knows, maybe even in the US next year!

to all those who helped me throughout... my family, cousin larry who helped me during my frequent stays in Baguio, my friends in fine arts (ay, teka...speech na, wala pa nga yung award eh...)... and of course ms. may (now mrs. may papa), for all your advice, support and seeing my film through to the end!
1 There is a time for everything, and a season for every activity under heaven: ... 5 a time to scatter stones and a time to gather them, a time to embrace and a time to refrain... 11 He has made everything beautiful in its time.

-- Ecclesiastes 3:1-11

1 year in the making, 3 years in the waiting. (P100,000 for the taking? hahaha!)

12 minutes onscreen.

pls pray for me :)

----------------------------------
p.s.
why baguio, you ask? well, haven't i mentioned...? i grew up there :P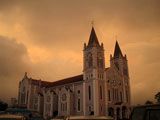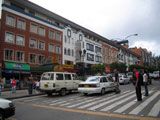 for more pics, check out:
Baguio Sept 2004
Baguio pics