For those who've seen my office station, you might be wondering who that cute little baby is posted all over my Mac. Her name is Hannah Emmanuelle Antonio, and she is the daughter of my friend and our church pastor, Carlos Antonio. She is diagnosed with Transposition of the Great Arteries, and what's keeping her alive now is, surprisingly, a hole in her heart.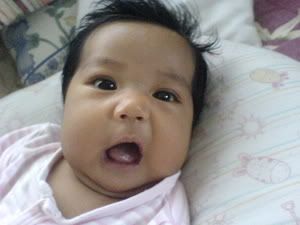 We are all believing for a miracle, and we know that what God will do for Hannah will be far greater than anything we can ever pray for, however in our own way this is how we can help their family as they hold on to their faith for their baby... by helping to raise funds through a dinner, auction plus entertainment by my friends DJ Chip de la Calzada & DJ Benjo Marquez (heart of soul).

Only a year ago, DJ Benjo Marquez was diagnosed with terminal cancer, and what we witnessed was nothing short of a miracle when he faced this full of strength and courage with God's grace, continuing to inspire and encourage others despite his sickness. And now God has healed him! And he is fighting again, this time for Baby Hannah, and we're all proud to stand by him and our spiritual family for this cause.

The Fundraising event is on March 31, 2007 at Wasabi Resto & Bar (Ayala Ave right beside Peninsula Manila), at 7:30pm. Everyone is invited! Proceeds of the dinner tickets and the auction will all go to Hannah's medical treatment.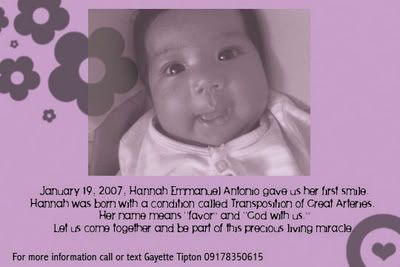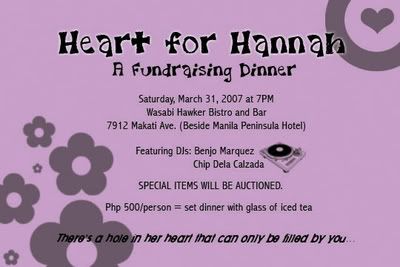 For tickets contact me or any of my friends Rina, Laica, & Benjo Marquez, Mari, OJ, Gayette Tipton, Cristalle Henares, Anson Yu, Catrice & Chip dela Calzada, and Stuart Yang (and so many others, haha, can't remember na). You can also help by donating money or any items/gift certificates for the auction. Spread the word!

Thanks so much and God bless!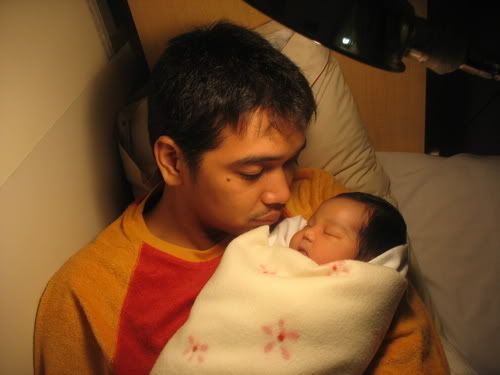 to know more about Hannah and her family, drop by her dad and mom's site, http://caloybert.multiply.com/ and http://bantonio.multiply.com/ ü